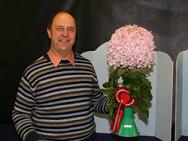 Maybe the UK's smallest Nursery

but

the largest supplier of Large Exhibition Chrysanthemums in Europe

and General UK Gardening Fanatic!!
Now also a supplier of unrooted cuttings of Exhibition Carnations
I specialise in late flowering chrysanthemums and in particular the Large Exhibition cultivars which I grow and supply to growers. I am a grower of over 30 years experience and have exhibited blooms at the National Chrysanthemum Society's Championships continually since 1975. I have achieved consistent success during this period, winning the championship 20 times. During this time I have acquired the finest stock and I have reselected it over many years. [More]
---
---
New from the blog:
McKinley & Mark Woolman were inadvertently omitted from the 2017 order form. Anyone who would like to order these please write then in. The first two weeks cuttings are on the propagation bench. Week 3, 20th February will be inserted on 27th January.
---