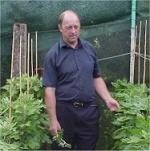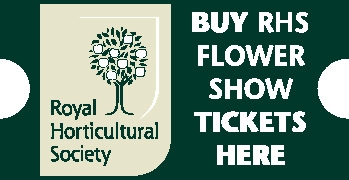 2024 Ordering
News
Tumbleweed

Nothing to report
Blog Archive
In The Beginning... The start of my interest in chrysanthemums
Tuesday, 10 August 2010
My first introduction to chrysanthemums was through a friend of my uncle and my father, Will Hughes. Will lived in Treorci, but later deserted God's country and mover to Bridgend. There was also another gentleman living near me called William Kinsey. He was a keen chrysanthemum grower along with his son William. This is where I was first able to see chrysanthemums growing in the garden.
I started to cultivate an allotment when I was 12 years of age. I had a marvellous uncle, Uncle Dan. He was my mother's brother, Dan Evans. Uncle Dan helped me clear a derelict allotment. This is something I couldn't do on my own at that age.
My father took a gardening job at a local hospital. He loved growing chrysanthemums. As an annual trip, we would take the train to Cardiff for a visit to Roath Park conservatory to see the late flowering chrysanthemums. They had all types there but even then the rarely seen mediums like Peter May and Birmingham took my eye.
My first experience of seeing real quality blooms was just after I had learned to drive. My Father asked me to drive my mother and him to Maesteg chrysanthemum show. That's where I first spotted Japs, Big Japs. I thought to myself, I'm going to grow some of them.
When I first started growing large exhibition chrysanthemums in the early 1970's I got a catalogue from Denis Baldwin and another from the Hertfordshire firm of Neil Swagger where I also got some plants.
Alan Wren was quite a good friend to the South Wales Group NCS. He sometimes brought some of his new releases down to our Group show at Pencoed. I remember him bringing the new incurve John Hughes.
I ordered several varieties of Japs from Alan, Leviathan, Duke of Kent (which turned out to be Cream Duke) and Gigantic (which became Silver Gigantic).
Len Shoesmith raised what is now Silver Gigantic and when it sported the registration committee thought the sport was the parent and reregistered Gigantic as Silver Gigantic. So the Silver is the original and what we know now as Gigantic has never been registered.
I got Apricot Harry Gee which turned out streaky all except for one plant. I think that I have supplied all the good Apricot Gee's in the UK from that one plant.
I also got Mark Woolman, Shirley Primrose and Peggy Anne from Alan Wren, but unfortunately I had to stop growing Peggy because it was streaky and obviously had a virus.
I obtained Jessie Habgood and Yellow Duke from Szwagger's Nursery which, when I mentioned it to Alan Wren, he told me he used to work for them before starting his own nursery.
I aquired all Arnold Fitton's varieties directly from Arnold himself. Jimmy Mottram, Bert Gibson (now a rarely seen Medium) Lancashire Fold, Lancashire Lad, Bill Fitton (now extinct unless someone tells me differently) Fitton's Reward and Ivor Mace. I released the last three in the early 90's.
I got Duke of Kent from Jack Ewins from Bridfort in Dorset. I remember seeing a pure white bloom at Yeovil Show in the Seventy's, Jack was kind enough to give me 4 rooted cuttings in a margarine carton which I collected when visiting my mother-in-law in Somerset.
Pink Duke came from Willie McConachie in Perth via Wallace Brook. Wallace also gave me his new varieties Elsie Prosser and Kota Kinabalu which I now no longer grow. He also gave me 2 cuttings of Peggy Anne. He had 2 very good blooms on the back row of his exhibit at the RHS halls some time in the 80's. He told me that an old gent from the North East gave him 1 plant and he rooted the top and grew it 1st crown and grew the original plant 2nd crown, hence the 2 blooms in his exhibit. I also had Golden Gigantic from Wallace after it had sported on Harold Walkers Nursery.
I got White Lancashire Fold directly from Colin Elsworth who it sported for.
A pal of mine, Roy Tudor, of vegetable growing fame gave me Ralph Lambert.
Yellow Ralph Lambert came from a dose of radiation after Howard Minns and I had a moment of inspiration. That is a tale in itself. We went to Swindon after Howard had been talking to Barrie Machen about irradiation induced sports. I've never been so frightened in all my life, it was like something from Dr No, Howard Minns was James Bond and I was Odd Job.
We had more cuttings irradiated later, which produced a new Salmon Harry Gee but not to be deterred I grew some of everything from the irradiated stock. Don't worry I didn't glow in the dark but I did get Cream Jessie, Bronze Gigantic and a new sport of Amber Harry Gee.
I bought Elizabeth Shoesmith from Cyril Jefferies who had a chrysanthemum nursery in Bristol. He used to release Shoesmith's novelties.
My stock of Phil Houghton came from Woolmans on the 2nd year of release. Elizabeth Shoesmith and Phil Houghton were both released the same year, 1972 I believe. Would you believe it, I couldn't afford to purchase both in the same year, so I got Elizabeth the first year and Phil the next year. Life was tough in the valleys in those days.
Harry Gee was another I got from Woolman's and also Yellow Phil Houghton although I changed my stock a few times of Phil and Yellow Phil from Andy Wickham because he grew them so well we all believed he had super stock.
Well, that's where I got my stock over a period of almost 40 years. It's hard to believe that when John Salter and Robert Fortune brought chrysanthemums from Japan and China all those years ago that so many people would get so much pleasure from growing them.
Just to finish I would like to say how excited I am at being able to grow Trident, John Nevill's new medium, A big medium. John, you are a credit to the chrysanths movement let's hope you are lucky enough to get a few new large. I am trying your Red Rum again also.
Good Growing to you all.
Posted by: mail@ivormace.com at 22:20