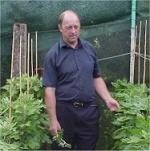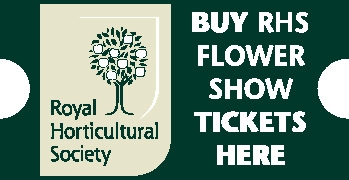 2023 Ordering
News
Tumbleweed

Nothing to report
Blog Archive
Progress report
Sunday, 26 May 2013
It's a month since I added a few picture to my blog, oh except for my rant about Royal Mail. The late spring has meant that everything needed doing at the same time. I usually start potting my carnations on into final 8 or 9 inch pots in or around mid April and after finishing that job I plant out the onions, then in mid May I start on the chrysanthemums. Well this year the carnation cuttings were late going out because of the snow, this meant I was later potting my own plants. The spring was the coldest recorded in my lifetime so plants were slower growing and all the cash in my pockets was disappearing paying the gas and electric bills. I eventually started potting the carnations by the 25th April and its been non stop ever since. 2,000 litres of compost mixed for the carnations and soon afterwards another 2,000 litres for the chrysanthemums. We both had two bouts of bronchitis so trying to continue was both hard work and was certainly not pleasurable. Potting the carnations is usually very enjoyable, all the windows and doors open in the greenhouse and the birds singing in the trees outside, what more could anyone want. When my parents and my aunt and uncle built the bungalows at Mace Lane I wonder did they ever think that I would get 40 very pleasurable years here in our garden. Well it makes you appreciate your parents and it makes you appreciate good health because potting those carnations this year was certainly not pleasurable at all, to add to this I knew due to the late spring everything was queuing up. Fortunately by the time I got started on the chrysanthemums in mid May the bronchitis had gone. The severe cold at night (75 consecutive frosty mornings since Christmas day) has left the foliage on the chrysanths with dead little brown patches on the lower leaves. The onions are definitely a good 2 weeks behind. Never the less things are starting to take shape.
Miniature roses grown in florists buckets Roses in florists buckets grown for sale at
the Rhondda Rose Society's show, also
Rosa laxa rootstocks for budding more roses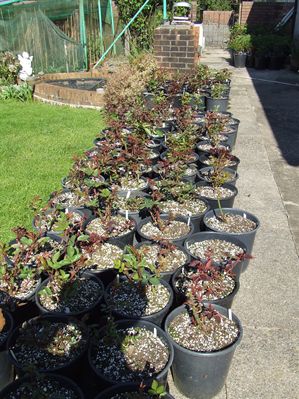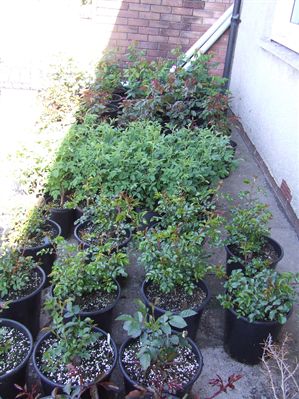 Chrysanths in final 9 & 10 inh pots under cover. Looking down.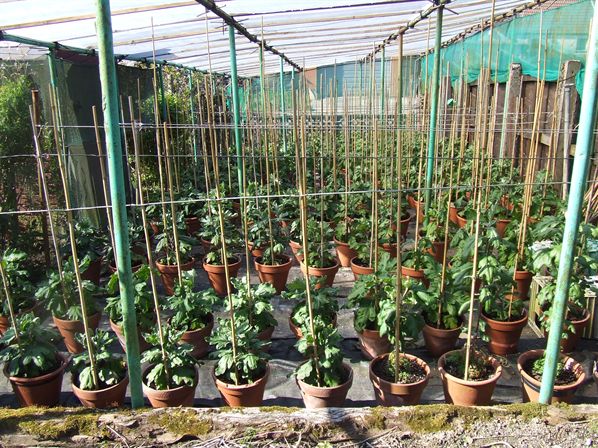 Looking up.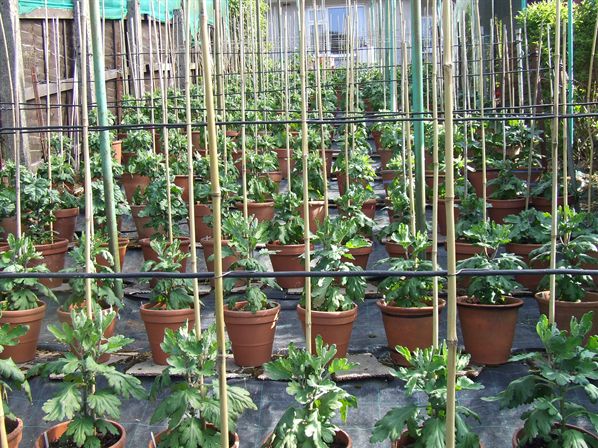 Duke of Kent & Sports Jessie Habgood & Sports Amber Gigantic, my most consistent variety.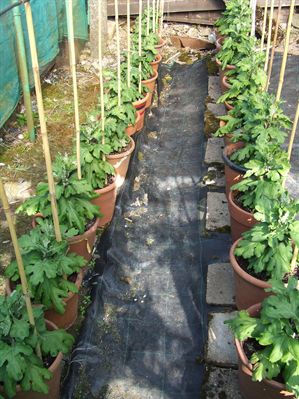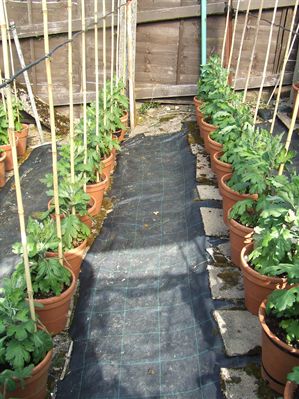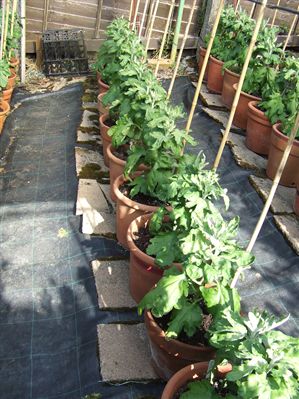 McKinley, John Nevill's new cultivar, released by me this year. Good luck to everyone who has bought it, I'm looking forward to showing it this coming November. Just a word about John Nevill, Thank you John for all you are doing raising new cultivars. It certainly makes the hobby much more interesting for all us growers. Now that all the commercial breeders have gone, its the likes of John, Richard Coles, Harry Lawson, Gordon Dowson, Don Horn and others who deserve a great debt of gratitude from us all.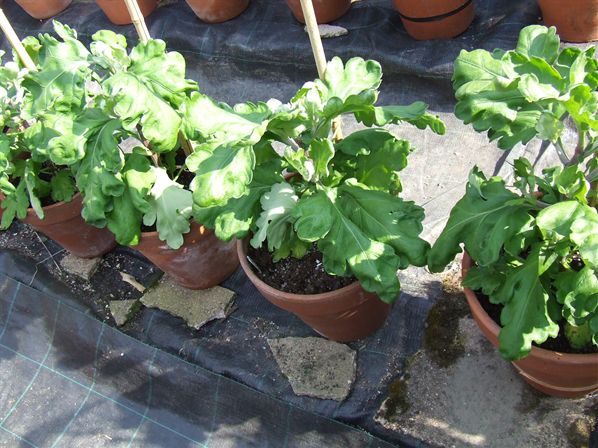 When I'm housing chrysanthemum pots into the greenhouse in September, I'll also be eating these autumn fruiting raspberries 'Polka' a vigorous easy to
grow autumn fruiting raspberry.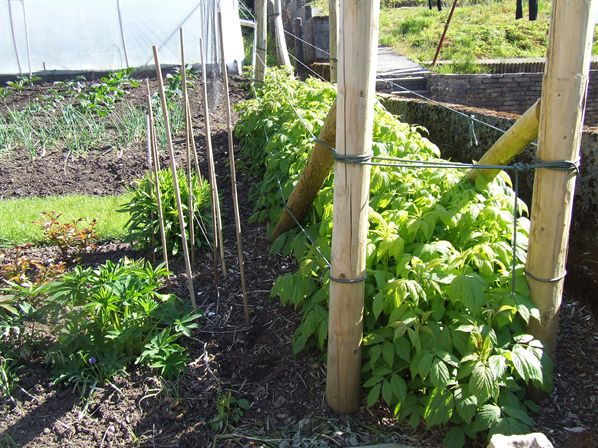 The new mixed border I planted last year is filling out nicely. Its nice to have friends
like Maurice Woodfield who gave me some of his Delphinium raisings and some excellent
Lupin seed which turned out better than anything you could buy. I planted about 15 plants
and no two were the same. All top notch and some lovely colours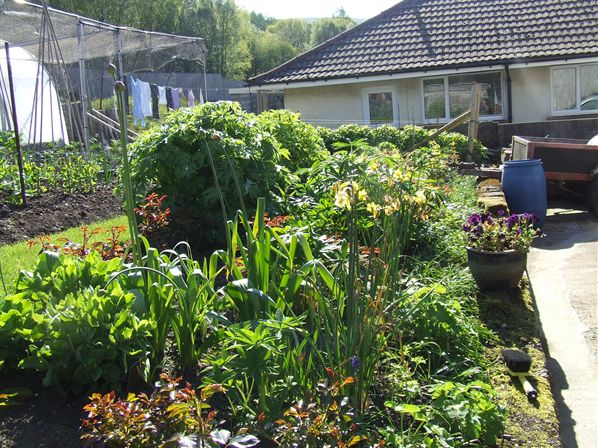 Some step-over apples I grafted on to M27 rootstock on the bottom wire and a few
on M9 on the upper wire, in hindsight the M9 are a bit more vigorous and easier to grow.
Every time I ran a grafting course I kept a few mementos, and here they are.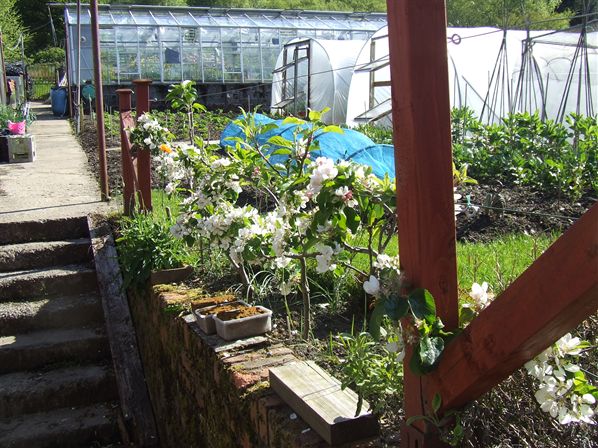 I spotted a few Cabbage White Butterflies and rushed to get the net over my Brassicas.
Just in time.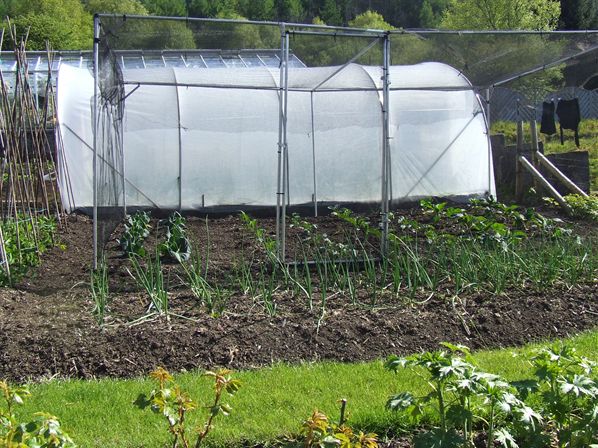 Likewise a net to stop carrot-fly, last year we had some lovely carrots.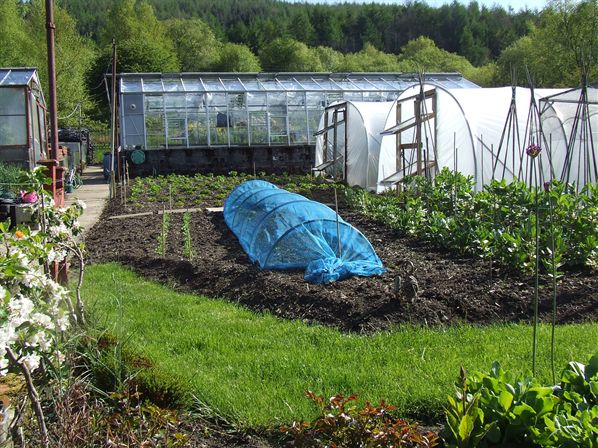 A greenhouse full of bits and pieces waiting to go out in June.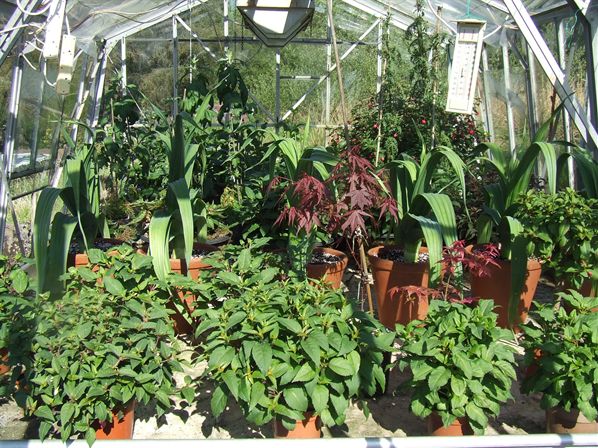 The onions look OK but about 2 weeks behind.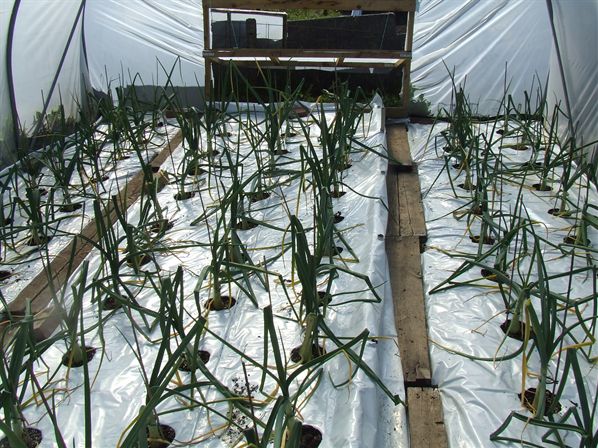 Potatoes are making slow progress due to cold nights, please no more frosts!!!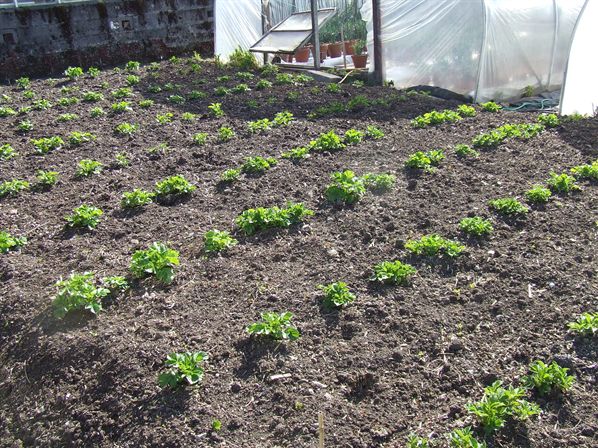 Joanne's Highlight and sports for the September shows. Greenhouse with earlier varieties and also leeks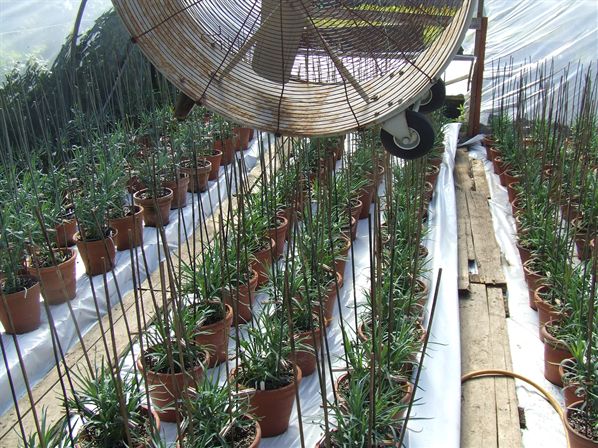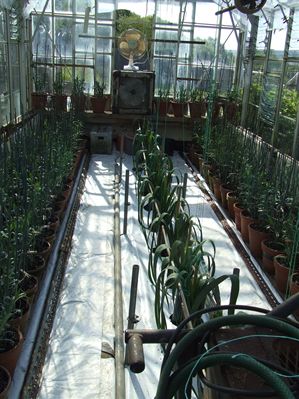 Some chrysanths that won't fit under the cover. ready to line out in a few weeks when
they've made more root into their final pots. Next years new ones from John Nevill, Patton & McTell.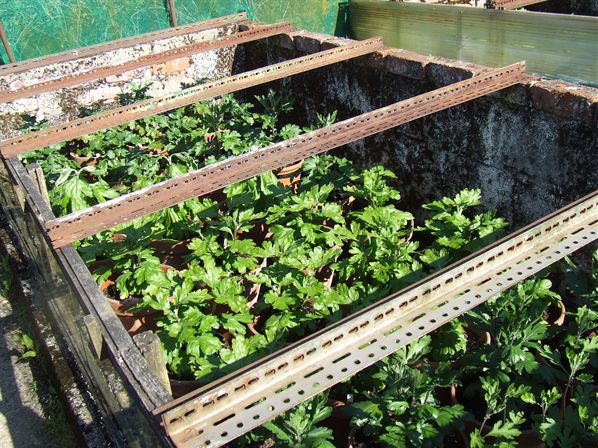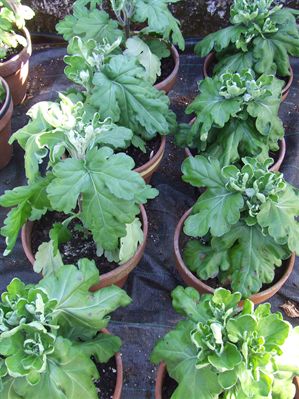 Lastly, after last years very wet summer when my strawberries rotted before they ripened
This year, new plants in florists buckets, under cover if it rains.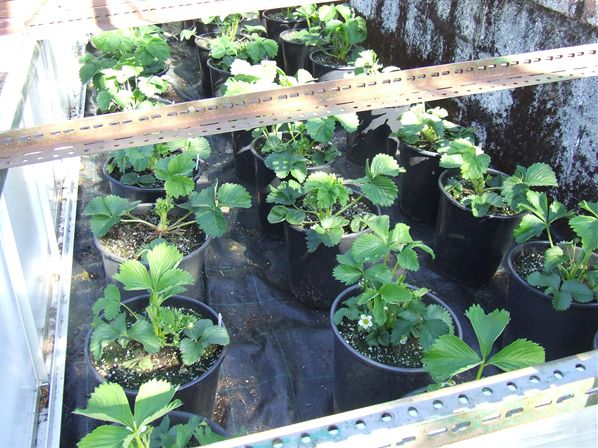 Posted by: ivormace@hotmail.com at 14:56